ISLANDER 36 COOLING AND HEATING SYSTEM
We spend almost every weekend aboard tied up to the dock when not sailing on Lake Travis. It gets HOT and my wife can't stand the Central Texas heat and humidity. Against every Scottish instinct in my body we had AC installed. As a bonus it provides heat in the winter (when we also spend weekends aboard).
The main unit is installed in the starboard stern lazarette tucked into the corner above the steering mechanism. A shelf was built to hold the unit and it was tucked in to leave some space to work on the steering system when necessary.
Main Unit: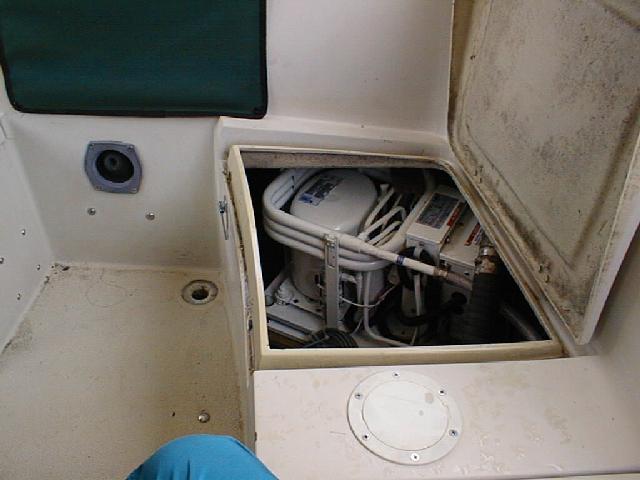 The lines are carried forward through the starboard lazarette, behind the stove and the port bench, to the hanging closet. The hanging closet provided the space to hide the blower system.
Blower: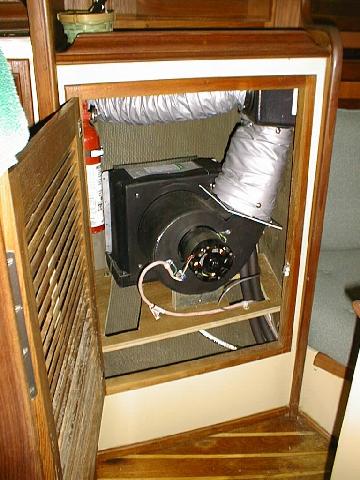 The blower blasts most of the air to the main cabin with a smaller duct to the V berth. The controls and the main vent are cut into the side of the hanging closet.
Controls and Main Cabin Vent: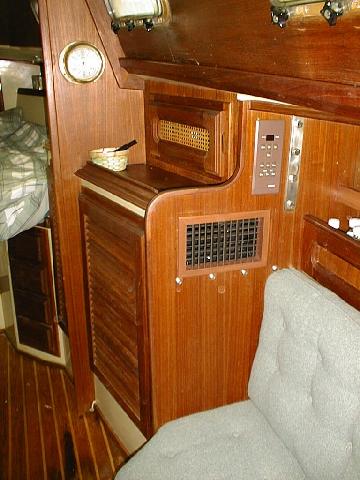 V Berth Vent: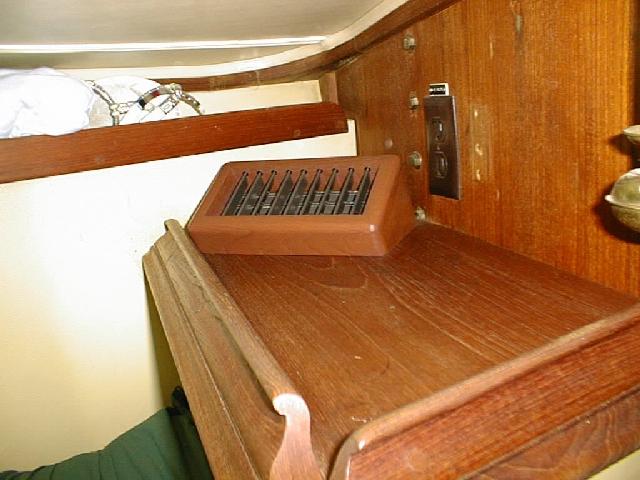 The water pump is placed in the bilges with a through hull connection bringing the water in. The return water is dumped into the bilge and pumped out.
Bilge Water Pump: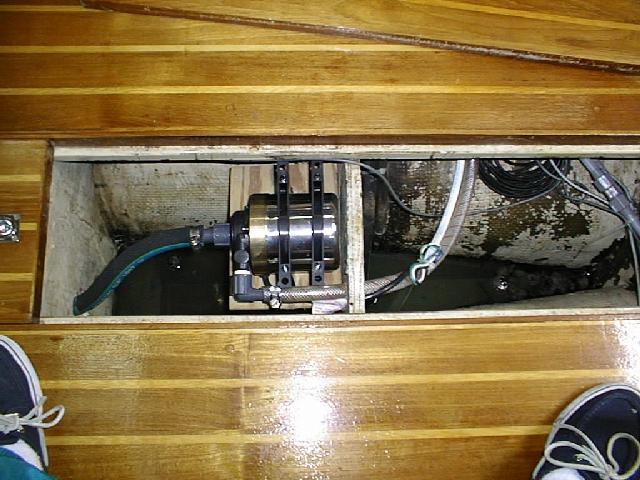 PLUSES:
The system works magnificently both for heating and cooling the boat, with automatic temperature controls and pressure switches for heating and cooling modes. At the moment we have a freeze and the heater is maintaining the boat at the minimum heat setting of 55 degrees.
NEGATIVES:
1. We lost the use of the hanging closet for storage.
2. The vents do not come with controls to close off or open up the two vents as in a car. To increase the air pressure going into the V berth we have to cover the vent to the main cabin with a cushion. This is a silly omission on the part of Cruisair who supplied the system.
3. It can only be used on shore power since it would wipe out our batteries if we tried to use the system at anchor.
It is NOT cheap. I suffer a truly Scottish pain when I think of the cost of comfort, but as my wife says in dreadful tones, "I am worth it".
Henry Neil (Caledonia)
E-mail to Henry
---