---

Switch Panel Cover

Don Henderson on Kindred Spirits fixed up this handy rig to protect his switch panel. As he says, "Our qurter berth gets used! Not just for "storage", but for "bunking". The difficulty has been that access to the quarter berth inevitably results in the circuit breakers being turned off (or on) as people get in and out.

Our solution is this lexan cover, stepped out about 1 & 1/4 inches from the panel surface. It is hinged on the aft side with "plastic" spring loaded hinges, with magnetic catches on the forward side matching up to a strip of 1/2 x 1 & 1/4 inch teak with plugged screw holes."



Click Pic to enlarge.
Return to Maintenance Menu

Home Page Menu
---
From Corky Stewart - 4-20-09

I recently had a lead acid Type 24 battery which was going bad and seems to have been putting of a fairly high Carbon Monoxide level while on the boat trickle charger. I initially thought that my CO/Smoke detector was "chirping" because of a low battery, however, after I changed the battery it continued to chirp and the CO light blinked. I immediately opened up the cabin hatches and got a good flow of fresh air down below, which made the Co detector quit chirping. Replaced the culprit battery and, so far, no more problems.

When I shared the above information with Past Commodore Art Fowler, he felt this information should be put out to The Association as a potential safety/health hazard. Bottom line is to monitor your battery condition and, more importantly, install a CO detector in the cabin. The life it saves could be your own!

Cheers!

Corky
Brigid
(Email removed)
Return to Maintenance Menu

Home Page Menu
---
Battery Placement

Here's another place to tuck those batteries - it gets them really low where they will do double duty for juice and stability. Thanks to Harry Farrell aboard Pacific High.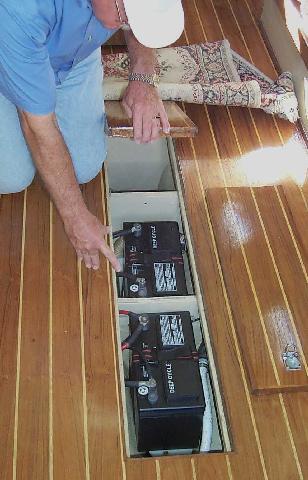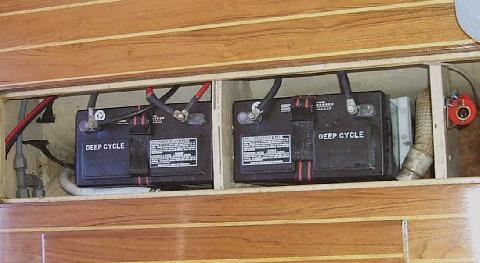 Return to Maintenance Menu

Home Page Menu
---
Circuit Breakers
2/21/07
Lorraine Hillman wrote:
Does anyone know where to get the old style circuit
breakers (5 amp)? Thanks

2/21/07
For the breakers: We have a 1973 and the following fit...
Try Steven Engineering 230 Ryan Way South San Francisco CA 94080-6370
800 258 9200 or 650 588 9200
For the 5 amp: #W31X2MIG-5
These are Potter & Brumfield brkrs.
They also have the 10's and 15's!
This is from 1998 so hope they are still in business?
Skipper Wall....I36 "Snowflower"

2/22/07
Try Lynne at Brands Marina in Port Clinton Ohio. She has an outlet that handles them. I copied her
(Service@brandsmarina.com ) on the email. Her phone number is 419-734-4212

Thanks
Jeff Crosby
419-217-8410


---
From: Cliff Cohen

I recently had to replace one of the push button circuit breakers on my 1984 I-36's distribution panel (I upgraded the dockside battery charger and the 5 amp breaker couldn't handle the load). Here's what I learned:

- the breakers are manufactured in Germany by E-T-A Circuit Breakers
- their U.S. division is in Illinois and their contact information is as follows:

E-T-A Circuit Breakers
1551 Bishop Court
Mount Prospect, Illinois 60056-6060
(847) 827-7600
www.etacbe.com

- the breakers are still in production (amazingly) but their numbering system has changed:
Old number: 45-700-SI0-DD (followed by the amp rating)
New number: 2-5700-IG1-K10-DD (followed by the amp rating)

- detailed descriptions and drawings are available on the E-T-A web site
- the breakers are in stock and available for purchase through the following distributors:

Electric Switches
800-421-8855
www.electricswitches.com

Wes-Garde Components
800-554-8866
www.wesgarde.com

Hope this helps someone else
Cliff Cohen, Latitude, I-36 #657
---