Califia Wins Islander Section
Three Bridge Fiasco
Saturday January 28, 2012

The Three Bridge Fiasco is a race sponsored by the Singlehanded Sailing Society. It is a pursuit start, meaning the slowest boats start first, and each boat (or class) has it's own starting time. The start and finish line was off the Golden Gate Yacht Club. The marks of the course were Blackaller Buoy, near the south tower of the Golden Gate Bridge, Red Rock, near the San Rafael Bridge, and Yurba Buena Island - in the middle of the Bay Bridge. The marks may be rounded in any order, and in any direction! And, you can race either single-handed or double-handed and spinnaker or non-spinnaker. The Islanders raced double-handed, non-spinnaker.

This ws the first race this year to have an individual Islander 36 section, and the Winner was Tim Bussiek, with crew Helmut Kaiser aboard Califia. It was Tim's first victory with Califia! Congratualtions!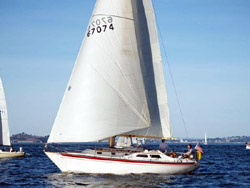 Report from Dan Knox:

Well there was something for everyone.

· We had one boat not make the start due to a mechanical problem.
· We had two boats arrive late for the start and one had a good reason, being boarded by Coast Guard for an inspection!
· We had the fleet split and where big gains and loses reversed themselves.
· We had 7 knot reaches up toward Red Rock from Treasure Island.
· We actually passed Kame twice, with Myphi trimming the headsail with every puff!
· We had a one hour drifter behind Angel Island.
· We had DDW Wing-on-Wing sailing from Point Blunt to GGYC were we average less than .25 knots!
· We got within about 100 feet of the finish line when the tide changed at the finish line.
· We had backward sailing.
· We had anchoring so we could enjoy a nice little rest time during the race in front of the StFYC.
· We had more anchoring a few hundred yards further down toward the GGB where we got a call from Pat Salvo letting us know we were sailing the wrong way. (We didn't consider that outside assistance and retire from the race, although in hind sight it might have been good to do that.)
· And finally we had one boat scored DSQ's because they drifted into the restricted area of Anita Rock! Maybe you can guess who did that! At least we didn't run aground but we were close!

Congratulations to the winners and all those that participated.

Thank you again to the Single Handed Sailing RC for a such an excellent event. And for all the I36's that attended. It was great have our own fleet out there. Hope to see you all at next year's Fiasco.


Report from Jocelyn Swanson:

Hi Rick,
Here are some photos I took while we were racing. We didn't see any of the other I-36's except for Pilot and we played tag with them the entire race. We finished about 10 secs or so ahead of them. I was at the helm from the start and took the boat around Red Rock then Steve took over and he finished the race. We were doing really well until coming around YB to go under the 2nd part of the Bay Bridge. No wind and it took us over an hour to get under the bridge. Once under we caught wind and finished the race! Link to pictures: http://share.shutterfly.com/share/received/welcome.sfly?fid=ded1291eeac967b5&sid=8AcMXLZw1ZN2bp


Report from Tim Bussiek:

No pictures from us either I'm afraid. We did GPS track where we were going – won't be interesting for most folks but it offers the complete race to look at again afterwards: search for tborntb on mapmytracks.com. if you replay it you should accelerate to at least 64x real speed. we didn't look at it during the race so hopefully this was allowed, feel free to use it if you like. For non-regulars I think it takes some of the unknown/danger out of racing. one day it would be great to see the different I-36s in one video. Here's a link to Tim's track: http://www.mapmytracks.com/tborntb

Thanks for your kind words Rick – we know who played a big part!


Report from Kapai's perspective:

My son Trevor and I had great expectations as the sail up from South Beach showed 10-12 knots out of the North. Great wind for the winter months! The wind completely died about 5 minutes before the start and we ended up low near GGYC headed up to Blackaller. Boats to windward were moving slowly while boats on the inside started and inexorable progression toward the inside of Anita Rock. By the time it occurred to us to throw out an anchor we were in pretty shallow water so engines being the better part of valor we kicked on the Perkins and DSQ'd. We did have a glorious daysail out to Pt. Bonita with 100's of dolphins keeping us company. First time I ever had to tack to get back under the gate as the wind clocked around to the NE. Fun day and we will be back in the race next year. Thanks again for everyone showing support for the fleet and special thanks to Dan our spiritual leader. Rick Egan SV Kapai




Pictures from Jocelyn Swanson


| | | | |
| --- | --- | --- | --- |
| Headed for Red Rock | Downwind to Yurba Buena | Looking back to Red Rock | Under the Bay Bridge |
Section 22 - Double Handed Islander 36
| | | | | | | | |
| --- | --- | --- | --- | --- | --- | --- | --- |
| Sail # | Boat Name | Skipper | Rating | Finish Time | Corrected Time | Place | Club |
| 67074 | CALIFIA | Tim Bussiek / Helmut Kaiser | 144 | 15:47:44 | 15:47:44 | 1 | Islander 36 |
| 484 | ZINGARA | Steve And Jocelyn Swanson / Jocelyn Swanson | 150 | 15:54:58 | 15:54:58 | 2 | CPYC |
| 648 | NANTUCKET | Richard Doyle / Michael Daly | 144 | 17:31:50 | 17:31:50 | 3 | Islander 36 |
| 420 | LUNA SEA | Dan Knox / Myphi Alloy | 144 | DNF | - | 7 | SBYC |
| 438 | KAPAI | Richard Egan / Trevor Egan | 144 | DNF | - | 7 | SSS |
| 553 | THE IRISH ROGUE | Gary Connors / Kristen Mcculloch | 144 | DNF | - | 7 | SSS |
| 6799 | PETIT SIRAH | Damien Campbell / Mark Peterson | 144 | DNC | - | 9 | SSS |