Sailing Qualities & Other Info

Here is a long series of responses to the general question, "How good is an Islander 36 and what should I look for?"

From: Robinson, James W
To: 'Sandy & Rick Van Mell'
Sent: Friday, June 04, 2004 5:35 AM
Subject: RE: [Islander36] I-36 June Update

Hello Rick and Sandy:

I know you hear this all the time - but "Thanks again" for all the work you've put into our web page, pictures, stories and basically keeping this fleet together. 24 Islanders is amazing. (At the Petaluma Rendezvous, Memorial Day weekend.) I was really pleased to see the pictures of the family with a 4 and 2 year old. We purchased PILOT when Molly was 4 and Woody was 2. Molly is now 17 and Woody is 15.....the years went by so fast, but our Islander has been a focal point throughout that time.

It was very interesting to me that we purchased PILOT from a family down in Moro Bay that had children the same ages as our two. The husband and wife didn't want their children raised around the boat. We purchased the Islander 36 because it was the safest, best value boat, that I could find on which to raise kids. It's lived up to our every expectation. When the kids were really young we went on all the cruises. Now that they're older and have other interests than hanging around with Martha and me, they race with us.

I'm fortunate that I have a great family - and that we found a great boat and fleet to become hooked up 13 years ago.

Sincerely,
Jim
james_w_robinson@ml.com


From: Ron May To: vanmells@ix.netcom.com
Sent: Sunday, January 13, 2002 5:29 PM
Subject: Islander 36
I was looking at your wonderful web page of Islander 36's. Do you have or do you know of any brochures on the I 36? I've looked every where for more information but haven't had any luck. I'm thinking of buying one for racing on Morro Bay. We have one boat now and I hope to give him some competition, but would like more info on the boat, how many built, was it considered a quality boat, etc?
Thanks,
Ron May themays@att.net
Ron,
Thanks for your interest in the I-36. It's a great boat, but you've probably figured that out looking through our web site and the many pages of good times, and freely shared experience at maintaining and optimizing them.
Since Islander Yachts went out of business in 1985, there aren't any brochures around. But there were between 600 and 700 built, and we have about 190 owners currently as members of our Association. that probably means that over the years we've probably had over 230 who were members at one time or another. There is an Owners Manual available from our Membership Chairman, Skipper Wall ( nvsnowflower@cs.com ).
Even though designed many years ago, the Islander 36 is a sturdy, seakindly, and even competitive boat to sail. With regular winds in the 20 - 30 knot category on San Francisco Bay, they perform just fine.
I personally got mine (a 1973 model) when I was in Chicago (with much lighter winds) and collected lots of silverware racing under PHRF rules. A number of Islanders here on the Bay race in PHRF rather than our one-design races and do quite well. We have members who have sailed them around the Caribbean, Mexico and across the South Pacific.

The boat goes well to windward, tracks well downwind with a chute set, and doesn't mind ocean swells. She does not like a short chop (like Lake Michigan on occasion) with light wind and will pound.
Depending on your engine and prop, the boat does 6 -7 knots, but like many boats, tends to back to port or starboard in reverse. Most of our members have no trouble backing into slips and docks during our rendezvous - plan ahead and work with the engine, using light power and patience.
In the heavy summer 20 - 30 knot winds on the Bay, we frequently sail with just a headsail - a 135% or even just a 100% and get 6-7 knots and a nice ride. I've hit 12+ knots surfing, and 8+ is not unusual in a stiff breeze. They perform well in lighter winds too, but I used a 150% headsail when racing in Chicago.
The boat is well constructed, and the maintenance items that have materialized over 25 years are not hard or unusually expensive to keep up with.
We hope you'll find and Islander you like (did you check our Buy/Sell page on the web site?), and then you'll spend the princely sum of $15 to join our Association (application on the web site.)
Hope that helps. If you have more questions, feel free to give me a call.
Clear Sailing,
Rick Van Mell
650-962-1515
From: "Melinda Carver" celerity1@yahoo.com
To: jake2124@aol.com
Sent: Monday, December 31, 2001 11:07 AM
Subject: Islander 36 Questions

Jake (Brian Jacobs),
I am considering purchase of a 1972 Islander 36 located in SC (I am in NC). The boat is on the hard with an incomplete blister repair job (blisters are ground-out and awaiting filling and fairing (about 5-6/sq. foot). As a part of the deal, the buyer will have to pay the yard for completion, barrier coat and bottom paint. Therefore, the boat cannot undergo a traditional sea trial as part of the purchase agreement with the option of canceling the deal for a dissatisfactory sea trial.

Please help me with info on sailing and handling characteristics. In particular, please comment on her ability to sail to windward, her sea kindliness, her structural integrity and her handling in reverse. Does she slam through waves? How does the 36 compare to the
32 (I have access to a 32).

Also, what (is) are the older Islander 36's Achilles heel? How endemic are keel bolt problems? What are your 5 favorite things about the boat? What are your 5 greatest dislikes? What "things" would be on your hit-list to pay close attention to?

Additionally, do you have any archival data about the boat, manufacturer, and history? How does the Islander 36 rank as compared to older boats like Catalinas, Beneteaus, old Morgans (not Catalina Morgans), Columbia, Mariner and Cheoy Lees? I am looking at the latter 3 and an older Hallberg-Rassy.

Thanks for your help!

Melinda Carver

Hi Melinda,

Happy New Year - you've got lots of good questions about the Islander 36.
For a start, though, I encourage you to spend some time reading the various
pages on our web site: http://www.islander36.org

First, you'll find that a lots of people from all over the country (160
members) are having a wonderful experience with the boats. Even though
designed many years ago, the Islander 36 is a sturdy, seakindly, and even
competitive boat to sail. With regular winds in the 20 - 30 knot category
on San Francisco Bay, they perform just fine. I personally got mine ( a
1973 model) when I was in Chicago and collected lots of silverware racing
under PHRF rules. A number of Islanders here on the Bay race in PHRF rather
than our one-design races and do quite well. We have members who have sailed
them around the Caribbean, Mexico and across the South Pacific.

And, to answer one of your specific questions, the boat goes well to
windward, tracks well downwind with a chute set, and doesn't mind ocean
swells. She does not like a short chop (like Lake Michigan on occasion)
with light wind and will pound.
Depending on your engine and prop, the boat
tends to back to port or starboard in reverse, but many of our members have
no trouble backing into slips and docks during our rendezvous - plan ahead
and work with the engine, using light power and patience. In the heavy
summer 20 - 30 knot winds on the Bay, we frequently sail with just a
headsail - a 135% or even just a 100% and get 6-7 knots and a nice ride.

You'll also find under the Maintenance and Gadgets pages on the web site
many details about Islander issues. To summarize the most common, the mast
tends to corrode to the original aluminum mast step, bulkhead tabbing should
be checked occasionally, and, if you planning serious offshore passages, the
lower shroud chainplates should be extended from their original termination
in the deck to a connection with the hull. Rusty keel bolts are sometimes
an issue, but usually repaired relatively easily. I think all of these
solutions are described on the web site.

We also circulate specific maintenance questions among our members to share
experience.

As for the sea trials, I am assuming your surveyor has checked the standing
and running rigging and fittings. The sails can be unfurled in calm
conditions or removed and spread out for inspection. The rudder cables and
function can also be checked on the hard. The engine could be started with
a hose into the seawater intake (and water sprayed on the cutlass bearing)
for a simple check. Beyond that, there could be leaks in the stuffing box
which might not surface until launched. An alternative is to replace both
the cutlass bearing and repack the stuffing box before launch - not a bad
idea in any event. Finally, you might get the owner to put some amount of
money ($1000?) in an escrow account to fix propulsion or any other item
discovered during a sea trial. A good surveyor should be able to spot any
potential issues on the boat that he or she would recommend double checking
under way.

Hope that helps and you wind up getting an Islander. If you have any
further questions, just send them along. And, we hope you'll consider
joining the Islander Association for the reasonable fee of $15 per year.
The application is on our web site.

Clear Sailing,

Rick Van Mell
650-962-1515



----- Original Message ----- From: Ron To: Sandy & Rick Van Mell Sent: Tuesday, January 15, 2002 5:46 PM Subject: Re: Islander 36
Thanks for your nice response. (First one at top.)
I would really like to know the I/P/J/E dimensions if you have them. I'm probably going to be sailing with an older crew and don't want sails to large to handle. I have this dilemma of wanting to go fast (around PHRF of 120-140) in a stiff boat with small sails and not sure where to compromise.
Is there a better group of years to buy or is the latest year considered the best boat. Do you know the last year built? Was it built by the same group from hull #1 to the last one? What would you look for if you had to buy another boat keeping in mind just for racing?
I hope this is not overwhelming, Ron
Ron,
You will find most of the measurements for our one-design class racing on the web site under Constitution & Bylaws - the second half of the document is all about racing the boat. Interestingly, the I measurement is not included, but I think it's right around 45'. I have a particularly tall rig (there is a tall rig option on some boats), and mine is 48'. J = 14.48', P = 39.25; E = 12.75 . Our fleet rates at PHRF 141, I believe. Going fast on a stiff boat with small sails is a fairly good description of an I-36!
Since the hulls are the same, the year built has more to do with conveniences than anything else. However, some of the later boats have a particularly short traveler - only as wide as the companionway hatch. I don't know if this is true on all later (1983 -85) or not. Most of the racing boats have a traveler that spans most of the cabintop. The standard traveler is curved across the cabintop, but some folks have retrofitted a flat traveler by inserting blocks at the ends - this keeps leech tension equal as the traveler is trimmed or eased.
The "amenities" on the later boats, working up in sequence (with my guess as to approximate year) include:
1971 - (From Michael Daley, 8-22-04, Hull #27, original sail #18): Hatch-cover slides are protected by a fitted cover, but it's built like a @% wooden boat, out of planks. Needs maintenance and varnishing! No wonder they stopped doing it this way!

Toe rails are entirely teak-no aluminum extrusion-with a stainless Genoa track bolted through the aft part. There's the standard Genoa track further inboard, too.

Large teak pads under primary winches and cleats, and teak trim on cockpit seat edges.

Single backstay- no provision for boarding ladder there.

Engine instruments are under lazarette, (how DO you spell that?) just where you want to put your heels while driving, and where you can't see them anyway. Yacht Specialties steering, with engine controls on binnacle (at least).

This boat has a non-skid FRP sole, not wood, and has no built-in cabinetry over the port setee. Fold-up pilot berth starboard. If you are 6' tall, the hose for the port cockpit drain runs just where your feet want to be when sleeping in the quarterberth. Later rerouted.

Nav. station table has an extension section with those cool hinges like the table has, but nowhere really good to sit while working at it in a seaway.

Electrical panel is mounted in the port side of the non-removable part of the companionway steps, (with its back in the engine compartment). Rear access is bad, and it's good they moved it in later years.

The lifeline stanchions are strong, and each is backed up inside by a rectangular aluminum plate. I have seen newer boats with inferior installations, but I don't know if mine is original.

The boat has the wide, curved traveller. Every boat seems to have a different mainsheet/traveller rigging arrangement. I have rebuilt the traveller and mainsheet rigging to provide lower friction and additional purchase, carrying a triple block with becket on the traveler car in place of the usual fiddle, and doubles in the traveller itself. This works fine, but the mainsheet still runs just where the vang (not fitted) needs to go. Still working on that one...
(Back to original answer.)
1973 - hatch cover slides on open rails; no anchor locker on deck forward; lifeline "gate" is only the last section aft; no stern boarding ladder.
about 1975, fitted cover over the hatch to keep out green seas coming aboard.
about 1976 or 7, anchor locker in foredeck
before 1980, hatch cover molded as part of the deck; lifeline gates amidships
after 1980, small opening hatch added in the cabintop between the mast and the main hatch.
The choices of hot water, refrigeration, and alcohol, propane or natural gas stoves depended on the original owner, or a subsequent owner. A few have installed heaters and air-conditioning.
The serious racers either don't have a dodger, or can lower it when racing to reduce windage. My wife has been after me for 17 years to get a dodger! I broke down and got roller furling about 3 years ago.
Serious racers either don't have roller furling, or remove the drum and have their racing sails tack at deck level for the end-plate effect.
My boat is a 1973 with the wide traveler (still curved) and goes as well as any. For racing, I don't think the model year itself is particularly important. Good sails and a fair bottom, well set up and well sailed makes the difference.
Hope that helps!
Rick
Ron,
I have had a '74 Islander 36 for about 5 years now. Sanded & painted the bottom, hull & topsides ourselves. No significant blisters or crazing on bottom or top, respectively. Just finished having the mast base trimmed (corrosion) and standing rigging replaced.
It's my understanding that the 36's were built here in S. California through the mid-80's when molds were sold. The Association has more history.
I think blistering & crazing depend a lot on boat care and the area of most use (tropics, salt water, vs. Great Lakes, etc.).
They are still considered excellent, solid boats, worthy of upgrades and investment. We sure like ours.
Bill (Two-Can)
Ron,
My name is Jeff Crosby and I own a 1977 Islander 36. I previously owned a 1973 Islander 30. I love the boat. Once you sail one you will understand. I have had the boat for 5 years now. I have never had a blister problem with my boat. But it has always been on fresh water. I sail out of Brands Marina in Port Clinton Ohio, Lake Erie. My boat is powered with an Atomic 4 Gas engine and I love it. I put an electronic ignition on and it starts every time and I have never had a problem with it.
There is a gentleman in our marina with a 1976 Islander 36 and he has never had a problem with blisters either. Again I think it is the fresh water and the haul out each winter that helps. He is extremely satisfied with his.
I love the space and the wood in the boat. My wife loves the steps going down into the boat. They are not steep and the entrance way is an easy in and out. I am 6' 1" tall and weigh 225 lbs., yet the V berth in front is very comfortable. The first thing I did when I looked into buying one was to climb into the V berth and there is plenty of room for me and my wife.
But I think the thing that sold me on the boat was the way it sails. They handle very well in rough weather. Lake Erie is famous for rough seas and the Islander handles them extremely well. When I bought the boat I bought it in Saginaw Michigan and sailed it back in May. We crossed Lake Erie in 8' swells and the boat handled them well. I knew I had a winner.
I have the original brochures on my boat. If you would like a copy of the brochures that went with the boat I would be more than happy to send you a copy. Just give me your address and I will make you one. But I don't think you will be disappointed with the Islander 36.
Thanks,
# 708 Port Clinton
Jeff Crosby
Ron,
I have a 1977 Islander 36 which I love. Its a great, very comfortable and seaworthy cruiser. It has beautiful lines and cabin interior- I get compliments all the time! Blisters are a problem. Every two years I redo the bottom and that includes grinding about a half dozen blisters of varying sizes. I haven't had the hull peeled and redone because there isn't anyone around here that can do it and guarantee the work. It costs about $200/ft. So I'm resigned to having to deal with a few blisters when its time to repaint. Gelcoat cracks are a minor problem. The few that I have had I've easily repaired .
George White
Ron,
I have a 1974 Islander that has been kept on the Great Lakes its entire life. The deck was redone 2 years ago, mainly because of a few hairline cracks and 25 years of service. The hull, redone 5 years ago has had a total of 3 blisters in the last 15 years, all of which were easily repaired.
I am told that during the 1974 model run the factory changed the chemical composition of the resins to conserve on the petroleum product used. The new composition remained the standard until the late 70's. My friends who have boats from this era have all had blister problems.
I would encourage you to look at fresh water boats, our season is 6 or 7 months each year and we do not deal with the issues of salt related deterioration.

Raymond Cranston
Hello Ron,
I have owned my 1973 I-36 for 23 years now. In my 30 years of sailing, I have sailed on many other makes in the same size class. I kiss my Islander every time I step on her wonderful decks. She has seen me through many and many tough situations because of her strong construction and ability to take heavy wind The old adage "when its so bad that you cannot take care of the boat ...the boat should be able to take care of you" applies to an Islander-36.
I have sailed both in and out of the bay...several years ago I relocated her to Santa Cruz and my only wish is that she would do better in light air....But then, all of my sails are for heavy air.....
As you look at I-36's the boats faults are few and very visible.....certainly any boat surveyor should be on top of the faults. I have never had a blister problem and as far as the decks are concerned, I am looking at either re-gel-coating or painting them. Not bad for 29 year old boat.....I could go on and on about this boat but I'll spare you the great stories.
Good Luck
Bruce Halberg
Ron,

Didn't read Gary's or Rick's answer to you so here my thoughts.

1st. Get a survey on any boat you look at and think it's the one you want.
2nd. The molds for the Islander 36 never left the west coast. They were first bought in 1986 by Offshore Newport Yachts, out of business for several years. Presently the molds are in Perris CA. Not being used at all!

3. Islander Yachts tried to build the boats in Costa Rica in 85 and then went belly up in 86.

4. Try looking in back issues of "Sailing", "Cruising World", "Latitude 38", "Practical Sailor"

5. Ron, you will know "the" boat you want when you find it. It's that simple. It's clean, looks well maintained. Age has nothing to do with it. Ours is a 1973 and looks darn good if I may say so. We opened the companionway boards in 1986 and my first words to my wife was, "Oh my God, this is it"! You will know.

6. There are some books out there that will help you know what to look for. Get one or two to make your own "checklist" of things to look for. After that it's the surveyor's job.

7. I assume you have looked at our website: www.islander36.org. Lots of stuff there.

Know this probably not much help. But you will like the I36 when you get the right one. Gary's engine was a pile of rust (I saw it before they bought it in Alameda CA) and it would not run. The rest of the boat was a beauty...the diamond in the rough!!! Of course they got a heck of a deal because they had to replace the engine!!! Which they did with a Yanmar 3GM30.

Skipper Wall
I36, #154, 1973, "Snowflower
Ron:

From early 1978 until about three years ago, I was a partner in the I-36 "Seaward" with Fred Harbaugh who is currently a member of the I-36 Association. The boat is berthed in the Emeryville Marina (not Emery Cove) in berth G-48. The Seaward was built in 1974 and had an iron keel. Throughout the time that I was a partner, we never had any blisters in the hull. I don't remember any hairline cracks in the gel coat, but on the other hand, I don't remember looking for any either.

Bill Higdon
Blockbuster
I own the 1972 #211 ,Orion, that I purchased about seven years ago in reasonably dual owner abused condition. I have rerigged it, new rolling furling head sail, new main, had the deck painted as the gel coat was in bad condition, but no blisters. On purchasing the boat I took the boat to Anderson to have the bottom painted, and was told that it needed the bottom redone, because of blisters----Not so---none. I will be happy to give you a tour of the boat, and perhaps a sail if you would like.
Fred Freund
Ron,

I find it surprising you think the I-36 web site is limited. I consider it quite comprehensive, particularly the section on "Maintenance," which really covers all the areas owners have had to deal with over the years. This section should also give you a fairly comprehensive list of things to look out for.

Anyway, I've had a 1971 Islander for 16 months now. For the price (30k-35k), I can't think of a different boat I'd buy. I would highly recommend an I-36 for San Francisco Bay and coastal sailing. Any boat over 10 years old should be carefully surveyed by a thorough & picky surveyor.

My hull has no more than a half dozen small blisters that I view as cosmetic only. I will monitor the blisters at future haulouts and at some point repair the few I have. I expect that may be 5+ years from now. I doubt my boat will ever require an extensive blister repair.

My deck gelcoat has some cosmetic crazing that's common at least in the earlier boats.

Regarding differences between years, the early boats did not have well reinforced chainplates and related bulkhead bonding to the hull. Later boats (not sure what year), the lower aft shrouds were tied from the deck to the hull for better reinforcement. On all boats look at the chainplate attachment to the bulkheads and related bulkhead tabbing to the hull for dry rot and good F/G bonding to the hull. For most boats, this problem should have been surfaced and been corrected years ago. However, depending on how well & frequently water leaks are caught and corrected, always check for bulkhead dry rot or deck plywood delamination. For example, where chainplates pass through the deck should be recaulked on an annual basis to prevent water intrusion and eventually dry rot.

There's been a bit of discussion lately about rusted keel bolts and engine repowerings. I have one keel bolt aft that has some rust, but the others look fine. I have no unusual working of the hull to keel joint, but will watch this going forward. What do you expect for a 30 year old boat? I still have the original Perkins 4-107. It could last for years, or go next year. Realistically I expect I'll be repowering sometime in the next 3-5 years.

While shopping, you should see some boats that look "worn out" and not kept up. Others have been well maintained. In addition to "cosmetic" upkeep, look at major maintenance items such as rigging, mast refitting/painting, spreaders, sails, ball valves, below water line hoses, etc.

Good luck on your search.

Again, the boat sails really nice and I'd buy another today if I were shopping for a $30-35k boat. Oh, anything below $30k should be looked at carefully for upkeep, anything over $35-$37k should be in EXCELLENT shape. Expect any boat of this age to realistically need some maintenance work.

Regards,
Ralph Greenwood
"Tranquility"
58 Coleman Drive
San Rafael, CA 94901
phone: 415-457-7136
email: rgrnwd@aol.com
Hi Ron:
We just sold our I36 1979. Name is Tenacious. It was (is) in very good condition and all boats will have blistering bottoms at some point especially if kept in salt water.
I suggest you attend the upcoming I36 meeting March 16th and look at the boats that will be there. One in the best condition is Pacific High.
Regards:
Larry Terzian
Ron,

Won't attempt to tell you which is the "best" I-36, but here are some of my observations.
In late '78, the deck layout was improved by the addition of an anchor well in the bow which provides handy storage for an anchor and associated equipment. Also the forward hatch was re-designed to do away with a lip. I think it has a more modern look. Also the companion way hatch was re-designed to make it a more conventional hatch as opposed to the original which has a fold down flap arrangement to cover the companion way boards. The Genoa tracks were also recessed to avoid those (ouch!) toe stubbers that are mounted at deck height. One trade off on the later deck layout is a much shorter traveler.....three feet as opposed to I'd guess four feet on earlier boats....you need a good vang to make up for it.

I believe you are right on the blister problem. When I was looking, most of the boats I looked at were '74 to '78 models, and most had some blister problems at one time or another. Some had been repaired but the blisters came back again in a few years. With that in mind, I decided it was better to buy a boat with blisters, negotiate the price based upon the blisters, and then fix it right. I bought a boat with blisters, had the bottom peeled and rebuilt with an additional two layers of fiberglass The new bottom is all in vinylester resin....I am pretty sure I won't have anymore blister problems!

The Perkings 4-108 is probably the best engine they put in the I-36, but it weighs over 500 lbs with transmission, and tends to leak a little oil. However, a recent survey of diesel mechanics by Practical Sailor magazine found them agreeing the Perkins is a better engine than the Pathfinder or Westerbeke.

I've only seen pictures or brochures of '80 vintage I-36's. I notice they have done away with the split bridle back stay and according to a brochure I have, has plastic water tanks rather than stainless steel. Can't say if this is a cost cutting effort or an improvement in technology.

Guess that's all that comes to mind. ...What ever model I-36 you get, you will just love it....have had mine for five years now, and pat myself on the back each year for being smart enough to buy such a great boat!

Fairwinds.
Jim Joubert
Ron,
Is a '62 VW beetle better than a '72? Apply your same questioning. We've owned our '81 Islander for 3 years. Is it better than an '79? Not appreciably, nor a '74. Chances are you are not going to find an ample supply (doesn't mean you can't look) in any particular year and condition that you want to buy in your price range and location. Yes, blistering is a factor. You would not want to incur the additional $5000 expense and time. Nor would you want to incur costs for rerigging, new sails, engine, etc. I don't think your going to get the "answer" to what's right for you. What I do believe is that any I36 in reasonable shape will not dissappoint you. And, no matter what the surveyor says, it's going to cost you more money in the long run. Count on it!
Welcome to the Association.
Ken on "Svanen"
Hi Ron--

Re your query -- as an involved owner for the last 9 yrs of a 1976 I-36 --
and one who has reasonably frequent direct contact with at least another 30
I-36 owners in the Greater SF Bay Area -- here are some thoughts, for what
they are worth:

1) I'm not sure that there is a "best" year, or period of years, for
I-36's.. To some extent this is subjective, but more often then not -- it's
what TLC has been provided over the years. There are a few subtle
"refinements" in later models -- i.e., starting in 1978, the opening anchor
well in the bow, -- but, for the most part, most years 1971-1982 are pretty
much the same boat appearance wise. (I don't know anything about 83-86
models possibly manufactured using the original molds).

2) As to blisters -- as you imply, rumor is that those built from 74 to --?
have had more blister problems due to the limited availability of certain oil
related products during the Mid-East embargo period. To some extent,
probably true -- but experience suggests that boats resident in warmer waters
(say, Southern California) had had more problems in this area. There are
some who argue that turnover in the I-36 manufacturing org, also impacted
certain boat years more than others (less experienced staff). In any event,
my 1976 did have a significant blister problem that apparently started in
it's first few years (San Diego -- warm water). Survey disclosed this --
more than 300, some the size of a dollar, at time of purchase -- and price
adjusted accordingly. Boat was out of water 5 months for a complete
"peeling" -- at a cost (9 yrs ago) of around $5-6K -- but after five interim
haul's -- absolutely no return. Opinion: If you're looking at an older
Islander -- and no blister problems apparent, it has probably been properly
fixed -- or it never had the problem. The "high" price of my blister job,
again, reflects what might be called a completely new bottom -- and not the
individual "grind" and fill job, which will work fairly well, and
economically, if there are only a few isolated blisters.

3) My sense is that hair-line deck cracks are more frequently observed on
the 71-76 Islanders. But, some of this vs newer boats simply reflects more
use; hence, more stress. Those used in a racing mode tend to have more crack
problems than cruiser usage, because of the relatively more stress. In any
event -- most surveyor's seem to feel that "crack's" tend to be more of a
cosmetic issue, than structural. Best time to fix is if, and when, one
completely repaints the deck -- because case by case "fixes" often look worse
than the original crack due to the problem of color matching.

4) Apart from blisters, another high cost item to consider in purchasing an
Islander, or any boat, is the engine. Surveyors often don't detect problems
in this area -- they aren't mechanics, so if it starts -- must be "OK".
Don't believe it. Assuming an honest "hour" meter -- low "hours" is not
always good. Diesel's need to be used!! -- and run regularly (like once a
week, if possible -- even at the dock). Mine is powered by a Perkins 4-108
(50 hp). When I became involved, it had 750 hrs on the clock -- but, in
short order, "died". Rebuild cost was on the order of $7,500 -- and it's
still running great after 650 hrs on the "rebuild". But -- by hindsight,
might have been worth repowering, since parts on the older engine's are
increasingly scare (4-108 no longer made). New Yanmar's, installed in
I-36's, tend to run around $12-13K, all-in.

5) Most 1970's era Islanders have had mast step corrosion problems. Any
boat that's had reasonable TLC will probably have had this taken care of
(involves pulling mast, cutting off 3/4 inch or so from mast step, building
up with Lexon, or whatever). Something worth doing if you decide to
replace the standing rigging -- which most Islander folks feel appropriate
in 10-15 yrs time, depending on how boat has been used. When mast is out,
also be sure to check electrical wiring to anchor lights, antenna etc -- If
not already redone, most Islanders -- especially those 20 yrs old or so --
will be ready for this...(In my case -- 75% of the electrical wiring
warranted replacement, along with the bilge pumps etc)....

6) Cosmetics and "necessary" enhancements are up to the beholder! -- In my
case, it involved new electronics, gauges, cushions, head, t hot water
heater, and stove/oven (20 yrs again is a good life span).

Needless to say -- the maintenance/revamps/upgrades etc. add up $ wise. In
my case, the original price was a bargain -- but, even having done a lot of
the work, which I enjoy, I suspect that my spending exceeds the current
market value -- which, incidentally, has moved up modestly on the West Coast,
with I-36's in very good condition going for $45-50 -- vs $35-40 for the
"average"... and an occasional "dog" for mid 20's.

I've rambled -- but hope this proves to be of some use in your search...
Good luck!

Oh -- bottom line -- I now have the 1976 Islander in ship shape -- have been
cruising it at least 2-3 times a month for the last 7 years -- and would do
it again. Caveat, is that if I had seen one available with a bit more TLC,
I'd have gone for it at a higher price -- and, given proper maintenance et.
al, I'd be indifferent to the year (some of the early 70's had iron keels;
most folks prefer lead!; and unless you plan to repower, go for a diesel).

Don Henderson
"Kindred Spirits" - I-36

Ron, common sense (no offense meant) dictates that if you're looking for an older boat whatever you find (unless you pay top dollar on a total refit) is going to need bottom work sooner, rather than later. As far as being a safe, sound boat: I can attest to motoring in 70 mph winds (knot meter pegged at 60 knots) and sailing with no reefs in a #3 jib in 55 knot winds and she held a true course and handled just fine in both instances. I have sailed often in 45 knot winds with my #3 jib and have had only one time been close to knockdown - by a huge gust and I didn't have an opportunity to check the knot meter.
I crew on a Ranger 34 and we are constantly rail in the water with winds at sub 30 knots.
In my book the I36 is a sound, sturdy vessel that cruises fine, races well and is a heck of a lot of fun to sail.
I sail on Lake Mead, the boat has been in fresh water since 1981-2 and I haven't seen any blistering. Last haul out was 1994 with a total paint job and no blistering. She's a 1977 I36.J
Julia & Kevin
Ron:
Glad you liked our site, but I'm afraid that we are the only game on the block. Islander Yachts went out of business in 1986. They made about 760 I36's in the production run. We think there are around 200+ in the San Francisco Bay area. Our Assoc. has around 160 members across the country, so with that, we are doing all we can do to get info out about the design. We still have, according to Latitude38, one of the most active one-design fleets on the Bay. The boat has a PHRF of 144 on the Bay. We had 11 boats qualify for our one design series this year. We know the design is 20+years old but just think of the conditions you can sail her in. The Bay has over 20+ knot winds every day from mid May to mid Sept. We have a 120% jib on a Harken furler and seldom reef. We do use techniques to depower the main, but have sailed in 37 knot gusts going into Coyote Point under full sail with just the wife and I. I am crew on Pacific High, one of the boats in the racing fleet and we have a crew of 4-5 although we don't run a spinnaker. Most of the spinnaker boats carry a crew of 7-8. Our membership Captain, Skipper Wall, has done research on the Islander Corp. and published it in one of our newsletters. I can't remember which one, but they are available on our web site. You can also contact Skipper directly from the site. If you have any questions about our Association or the Islander 36 please feel free to call me at 916-363-4566 or my cell phone at 916-215-4566.
Regards, Gary Salvo
Ron:
Go to our web site and go to the By-laws page. It is in two sections and the last section pertains to your racing rules. All the Islander measurements are there. I just looked at our membership database and 'Wild Onion' a 1985 model has been a season champ, whereas, 'Absolute' a '72 has also held that distinction. So I think all the boats where built on the same mold with slight modifications to the cabin top. Some of the boats have an iron keel. You can easily detect that by looking in the bilge. It is only about 8 inches deep. The lead keeled model has about a 24' deep bilge. There were some models built with shoal draft and also some with a tall mast for light air sailing areas. The boat is quite stiff, which is needed for the blustery winds in the Bay.
Gary Salvo
Found this on the internet under I-28 stuff, might be interesting for the
I36 website. I noticed two different people responding to my query
mentioned they had I 36 brochures. It would be nice if they could be
available on the I36 website.

Cheers, Ron May


Here is a look at the 1978 price list and options!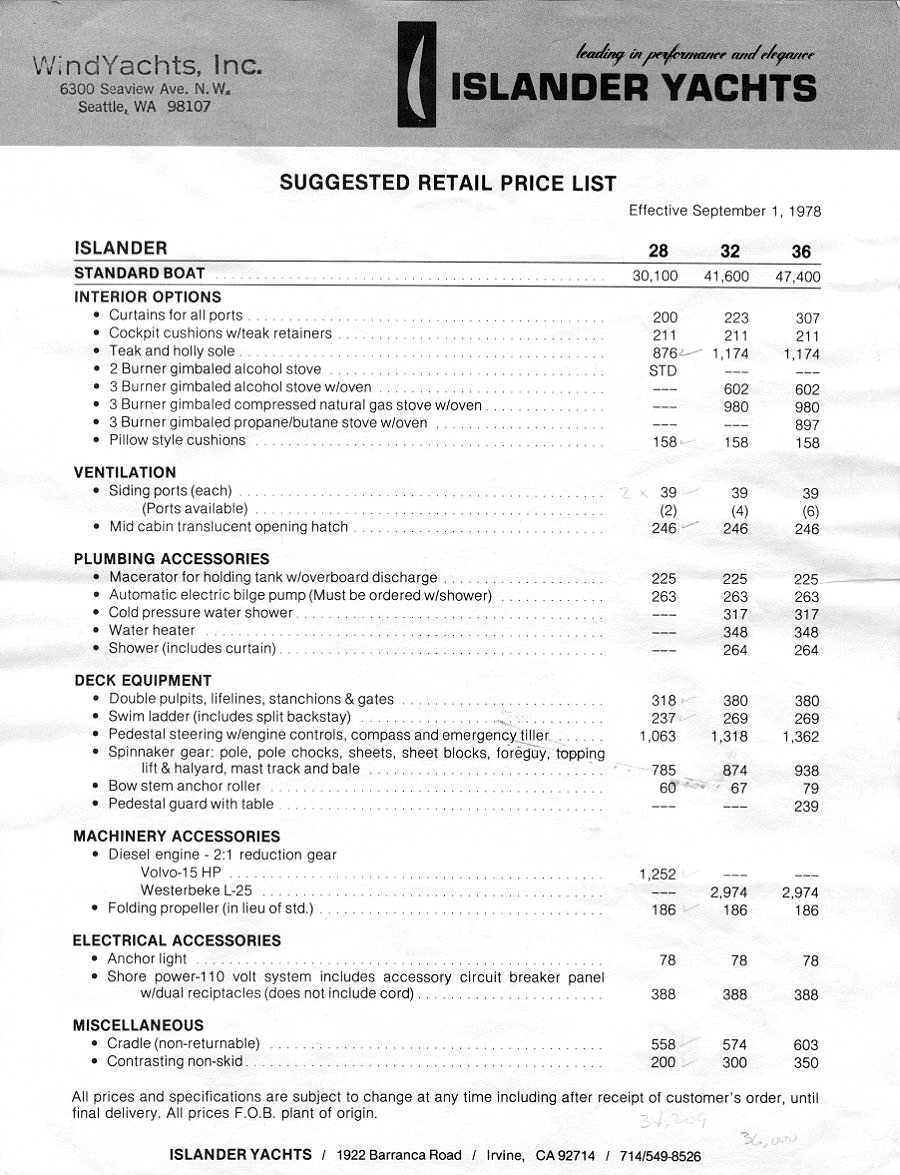 ---