Transpac Victory
Chris Mellor's story aboard Barking Spider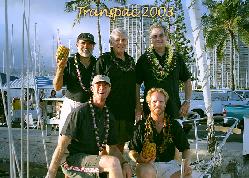 Back row: Carlos Lamas, Lindsay Jones,
& Navigator John Burrell.
Front Row: Chris Mellor & Skipper: David Kory.
We started on July 1st off of Point Fermin near Long Beach at 1 PM. Due to light winds (sailing in LA?) it took one half hour to beat furiously against a 1 knot coastal current to actually cross the starting line! After crossing, the wind picked up and we began a beat to the North end of Catalina Island, 26 miles offshore. This was the only mark in the race: leave Catalina to port, then finish at the buoy off of Diamond Head, Oahu.
After gaining the North end, we changed course to 238 Magnetic, a number that will be forever etched in my brain, and promptly sailed into a wind hole. We watched the Cal 40 fleet masts slowly recede westward as we tried the asymmetrical briefly and then switched back to the jib. As darkness fell, the wind filled in and we began a close hauled sail, not quite able to make our desired heading, but making good speed.
We were required to call the race committee on the Alaska Eagle, an old Whitbread around the world racing boat, 2 times daily on SSB. The 8 AM check-in required that we report our position with latitude and longitude, the evening "bed-check" was just to verify that we were still floating around out there somewhere.
We also kept 4 hour log entries including lat & long, miles sailed and miles to go, etc. which would prove endlessly fascinating to the crew on computing average speed over the 4 hour interval and, later in the race, projected time to the finish line.
We also plotted our 8 AM position on our ocean chart, and compared our track to the rhumb line, which was our navigating strategy, to follow the shortest path to Honolulu, a strategy though not very adventurous, would prove quite efficient in the end.
Our first 8 AM log entries revealed through comparing the GPS mileage that we made (if memory serves) 179 miles in the first 24 hour period and about 170 miles the second day. It was easy steering using the apparent wind gauge, compass and a bit of visual sail trim (no moon). We were pleased, and I suspect that those first two days close to the wind did a lot to establish our lead over the other boats in our fleet.
David's 1984 Catalina 38 was designed to optimize the International Offshore Racing Rules of the time, and a big part of that rule is speed to windward. The boat is not, as many of our competitors in faster divisions were, a purpose built boat for the Traspac, typically a broad reach to Hawaii, with poor performance to windward.
Everyone was adjusting to life aboard, the 4 hours on watch, 6 hours off, and the adrenaline of the start of the race was wearing off. There were a few hurls to leeward at opportune moments by members of the crew, but no serious malaise.
I was making good progress on the mountain of food that I had packed in Ziploc bags, one for each day with healthy portions of breakfast (oatmeal, granola or canned fruit), lunch (soup, chips and soda) and dinner (stew, vegetables and sport drink).
As the wind slowly clocked around to its eventual trade wind destination, we elected to use the asymmetrical spinnaker for a while. This sail can generate tremendous power from close to broad reach. The trick is knowing how and when to use it. We had only practiced with this sail a few times, and I remember the tendency of the sail to cause a round-up if wind speed increased and the helm allowed it to get upwind of a beam reach.
Well, guess what? We had some of those same conditions as I was at the helm. I remember being on course on a beam reach, about 20 degrees heel and screaming along. Something distracted me from my job and I allowed our course to come up into the wind about 30 degrees. The sail pulls the boat into the wind with increasing force as you allow the boat to head up. I noticed what was happening and slammed the helm hard downwind.
Luckily, the wind strength had not built enough to overpower the rudder, and the helm responded quickly to my correction. Unfortunately, the sail had begun to luff and my hard turn downwind caused it to fill with wind all at once. CRACK and it was full again, but the shock of wind all at once parted the halyard and the sail was suddenly dragging behind the boat.
"SLACK THE SHEET!! DUMP IT!!" screamed the skipper as the sail was filling with water behind the boat as it had filled with air so well a moment before. We hauled it aboard into the cockpit with great effort, all getting soaked in the process. Did I hear tearing over the lifelines as we hauled it back aboard? We checked and could find no damage.
We pulled out the jib and continued on, having lost only a knot of speed. We then dragged the spinnaker to the foredeck and rigged the spare spinnaker halyard to its head. We rolled up the jib and re-hoisted and got underway again. Meanwhile, the skipper already had the bosun's chair out and had run out lines to prepare for a trip up the mast to re-run the broken halyard. All hands were needed to winch him up, steer the boat and tend the sails. As soon as he got within sight of the top of the mast he shouted: "Drop the spinnaker!"
We did so obediently and watched with some trepidation as he clung to the mast and worked away as we rolled through seas of 4 - 6 feet. "Lower me down!" came the command about 4 minutes later, and we rapidly but smoothly delivered him to the deck. "Whew! Glad to be back down here!" he said, echoing our sentiments exactly. "The spare halyard was fouled on mast hardware and I was watching it being cut with every puff of wind and roll of the boat. That's why I had you drop it." he said. Inspection of the spare halyard showed about half of the line had been sliced through. The skipper had replaced a block at the mast top that had been destroyed, run the original halyard back through and we now had two halyards that were free of chafe and fraying, but each a little shorter than before.
It was on the third day that my personal adventure began; I started feeling like I had the flu. My appetite, though never having been good, took the back burner to my need for sleep. I would start a watch feeling somewhat human, but four hours later, I would have shaking knees from the colder than anticipated weather (I was wearing everything I had packed for clothing), aching bones, tingling skin. I would spend the next 10 days or so just wanting to lower myself into the lee cloth enclosed bunk and rest; eating became an unnecessary luxury for 4 days that would just deprive me of sleep.
Unfortunately, I had forgotten to apply enough sunblock when I started feeling bad one day, and when I lay down, my face would burn. Convinced I had a fever, I would drape a wet washcloth on my face. Soon, I would also become short of breath after a series of coughs as soon as I would become horizontal. I was a pretty pathetic sight, but the crew refrained from throwing me overboard in disgust and offered a lot of constructive advice on getting well and even some sympathy at times.
The sailing had become more challenging, with the symmetrical spinnaker being flown 24 hrs. The moon had become a quarter crescent, but intermittent cloud cover rendered even that feeble light unreliable. The compass's red light became an "instrument of the devil" as is compelled me to average our a 240 course in the swells. The apparent wind indicator was giving delayed and various readings due to the lighter apparent wind present on a broad reach, and the effect of swells bouncing the top of the mast all over the place, so was not really to be trusted as much as before when beating. I became adept by the middle of the race when the wind really got light at wrapping the spinnaker around the rolled up jib.
On the last fiasco, which was I believe was a double wrap by the time I realized what was going on it took 3 or 4 of us working every possible combination of spinnaker sheet, afterguy, foreguy, topping lift and halyard for about 2 hours in near total darkness to free the beast of its tenacious hold on the jib. We even tried unsuccessfully sailing in a circle to try to unwind the center section of its grip. I felt that the spinnaker was like a recalcitrant child that needed constant monitoring, but once familiar with its actions, you could learn to anticipate its bad behavior and beat it to the punch, thus defusing a nasty wrap.
We then decided that we needed to strap the spinnaker against the jib (which incidentally caused enough chafe on the sail later to warrant sail repair tape on 3 seams). This did not allow the sail to fill into its proper shape ahead of the boat and create maximum drive, but it kept loose folds from collapsing and backwinding around the jib, only to be noticed too late by weary crew. The swells would also encourage the spinnaker to be jiggled and shaken into bizarre shapes, only to find the willing jib there to tangle on.
In the last third of the race, the wind filled in nicely again and we could release the sheet and afterguy to allow the proper parachute shaped sail to do maximum work for us. I was starting to feel better then, after being relieved of two night watches by the skipper and crew. I knew several times that I should be up there, doing my part in handling the boat for the race, but since I was not roused to duty, I blissfully drifted off to sleep again, unaware of the rest of the crew's extended efforts to cover for me. I thanked them profusely when morning came both times, and it really helped me recover some strength.
It was during my last night watch about 4 AM, 120 miles from Hawaii that I had a epiphany of sorts of 24 hour ocean racing. I was steering when suddenly both ears popped open. The rush of foam on both sides of the boat was a wall of sound, rushing,, hissing. Swells 2-4 feet dead astern made keeping on course easy. Carlos noticed a squall on our left (The moon was full now). The winds slowly increased and I hit my record down one smooth swell 11.4 knots! The LED flashlight taped to a shroud shown on the spinnaker and indicated any quiver in the luff that would need attention.
If you could drive a 747 from the back, hanging onto a big silver wheel, contrails blasting out both sides, that's what surfing that swell felt like. Finally just wearing only shorts and tee shirt, no shoes. I didn't want that watch to end. Mackerel morning sky, 2 birds flying around the boat, calling each other. me not fatigued, no pain. Maybe another trip again like this, someday. The cost was too high to repeat this way.
When we finally saw land on the morning of July 15th, it was only recognizable by deducing that that pattern on the horizon could not be a cloud, it must be a mountain shoreline: Molokai! As we closed on Oahu, we could make out mountain shapes, volcanic headlands. As we entered the Molokai channel, all senses were peaked to watch for building wind, increased current and swells refracting (or was it reflecting?) off the Oahu shoreline and causing more confused seas than normal.
We went on a dead run for a while, and Barking Spider does not really like that point of sail. Oscillations start rolling the boat side to side, until both rails are going under. The skipper was at the helm on his watch and I am glad that he was, showing calm and minimal wheel corrections as the boat teeter-tottered its way along under building winds.
We passed Koko head with mansions built down near the crashing surf, and identified Diamond Head, skyscrapers of Honolulu beyond! We were navigating by GPS waypoints which had been entered months before on the approach to the finish. It worked like a charm.
The wind built to about 25 knots true but we never saw any troubling seas. We found the finish line buoy looking into a setting sun at about 4 PM. A photo boat came out. We had been radioing our position at 100 miles from finish, 25 miles and 5 miles, so the race committee could organize taking finish times, have an escort boat ready to bring you to your slip and have a race inspector come aboard to verify our emergency water not opened, plastic waste stored (the only thing you may not jettison over 25 miles from shore) and navigation records. Well, we finished, recording our own time, and then a voice from somewhere over the VHF verified that time to within one minute.
We lowered the spinnaker for the last time, started the engine and came up into the wind and dropped the main after miraculously remembering to attach the topping lift to the end of the boom that we had not used for 14 days. This avoids an embarrassing smash of the boom onto the deck or someone's head as the mainsail is lowered. Don't laugh, it has happened to us before.
We followed a trawler for a few miles across Waikiki beach and into the entrance to Ali Wai Yacht Harbor. What happened next took almost all of my breath away. We rounded a bend to the slips and passed the lawn of the Hawaii Yacht Club, members, milling about on the lawn and 2 story clubhouse. Across the water came a booming voice for the lawn PA speakers: "ALOOOOOOOOOOOHA! Welcome to Hawaii, Barking Spider. Congratulations on finishing the Transpac: Skipper: David Kory, Navigator: John Burell, Crew: Lindsay Jones, Chris Mellor and Carlos Lamas."
The people on shore shouted, whistled, clapped and screamed in a cacophony of joyful noise. It was awesome!
We quickly pulled into our slip; dockhands were there to take our lines for us. I was in a stupor. I attached a spring line to a massive cleat and turned around and was handed a bottle of champagne (Ostensibly to spray all over the crew and the boat: didn't happen) and a pineapple filled with Mai-Tai, a straw and, what was this, ICE CUBES!
When I struggled off the dock finger and into the parking lot where our welcoming committee had assembled, only then did I notice how the ground seemed to be moving in a random motion of 4-6 feet , confused, wind waves on top. What a case of sea legs! It was like an amusement park ride.
A flower lie was draped over my sorry head, cheeks were kissed and an ice cold draft beer was forced upon me. Each yacht in the Transpac is sponsored by a bar, restaurant or someone, so that whenever you finish, be it 5 PM as we did or 5 AM as some yachts did you are thrown a party on shore. Steak and lamb were barbecuing, fresh tropical fruit platters and vegetable platters were everywhere. Fresh food! What a concept! It was a new world of flavor washing over my tongue. I had forgotten how to be hungry, but what the hell, it was good anyway!
I met several wives of crew who were full of pride and kudos as if I was their husband. Everyone was shaking my hand. I was just trying to converse in an appreciative way and stand upright. I had no wind in my lungs. After two weeks of either sleeping or sitting or MAYBE pulling on a big silver steering wheel occasionally, this was like running a marathon!
After the parking lot party died down, we were obligated to go the Hawaii Yacht Club with the wives for just one more drink. Afterwards another crew member and I were shlepping our bags down the parking lot about to crash at the first hotel we came to, when a barbecue host party guy in a pickup from our party recognized us and said, "You guys! You don't want to carry those bags all the way to your hotel. Throw them in the back, I'll drive you wherever you need to go." Those bags were feeling like I had packed lead ingots inside. We gratefully packed inside his pickup and he dropped us at the main entrance to our hotel. "Grab some beers from the cooler to take to your room!" he insisted. What a lifesaver and generous host!
The rest of my stay on Honolulu was extremely restful. The king size bed in the hotel was an unreal comfort. The toilet in the bathroom: what a miracle of modernity is a toilet firmly attached to the earth that you do not have to brace yourself to stay seated with both elbows, that doesn't try to splash what little you deposit back onto your bottomsides, and has a seat that is so wide, it is where you can easily spend about 8 hours relaxing.
The health clinic that I went to after clearing my stuff off of the boat diagnosed Bronchial Pneumonia and gave me a raft of treatments at the clinic, and lots of drugs to combat the infection. I would find out later that I had lost 13 pounds.
A couple of yacht club parties later, numerous and long naps filled my days and evenings. The culmination of my Hawaii stay was the awards banquet on July 19th where trophies were handed out. The dinner started with a video that Roy Disney made of Transpac '03, owner of Pyewacket , one of the two largest turbo sleds and granddaddy of the Transpac. That was fun to see the living conditions on the racing boats some surfing footage, and Barking Spider made the video at the start and at the finish!
We were awarded First place in "Aloha B". Our boat name and skipper is attached to a beautiful perpetual trophy installed at the Hawaii Yacht Club. In addition, our navigator got a wall plaque, the skipper got a large wall plaque for first and each crew got a plaque for 1st place and a marble paperweight commemorating the race. The other boats in our class were a CF37 and an Ericson 35. Our boat placed 42nd overall out of 54 boats beating a Swan 53, a Beneteau 47.7, a Beneteau 50, a Tayana 52, a Wyle 39 and even one of the Cal 40's from the Cal 40 fleet! Not bad for 5 guys who never sailed in a major ocean race before! I tell our skipper that beginner's luck played a large part, but he seems to think that skill also had something to do with it (NAH!).
I jetted home on the 19th, missing my family terribly. I think I prefer traveling at 600 mph and being served meals, hot towels, nuts and sodas beats traveling at 6 knots and fighting with unco-operative dacron sails in the middle of the night, anyday. It was so great to be back in San Francisco, in the warm company of my family. Three weeks was definitely too long to be away.
In hindsight, would I do it again? The answer I gave to everyone who asked in Hawaii was a clear: "No." It is hard to know how I would have adjusted to the rigors of racing mode life if I had not fallen ill. One crewmember said to me while we were in the race about halfway across, "It is amazing how different this trip is from cruising to Hawaii, not in a race!"
It was a unique experience aboard a sailboat, totally different demands placed on me from the chartering trips I have done in sunny latitudes, different from week long trips spent aboard Persistence my Islander 36, which I came back from feeling rested and filled with rich memories. I have a feeling that there is a little less of the "Shackelton Endurance" type of blood in me and a little more of the type of adventurer who can really enjoy a trip with a cold beer beside his armchair and a roaring fire at his feet.
Seriously, the trip was an awesome way to unplug from my normal working/living existence that all of us live in daily. Being out to sea for 14 days was kind of unreal, as I look back on it. It doesn't seem to have been that long out there, but when I was out there, I lived every grueling moment of it. The only way to reap really rich rewards in life is to sacrifice something in order to get it.
Hawaii was a goal that we strove for for 2 short weeks with every fiber in our bodies. We had the opportunity to pursue a single minded focus. And a trip like this makes you appreciate how rewarding my work can be (now I like building decks!) and how rewarding the love of supporters is.
Thank you. Chris Mellor