June 18, 2006
San Leandro Cruise
(If you like, you can skip down through the prose and go straight to the pictures below!)
Tide is great leveler of people's plans. The warmth and charm of Spinnaker Yacht Club in San leandro sits at the shore end of a two mile channel that gets "iffy" at zero tide, and a show-stopper at minus tides. So our Islander fleet prudently planned to arrive late Friday afternoon on the flood tide.

Four boats had planned to come, and two made it. Cruise Chair Smokey & Laurie Stover sailed Evanescence gently down the bay with a spinnaker set (appropriate don't you think?), staying just ahead of the summer afternoon howlies coming across from the western shore. Rick Van Mell single-handed Vanishing Animal across, dead down wind under power with the white capped westerlies catching up to him about twenty minutes before the long channel.

Commodore Tim Shea was ready aboard Lean times, but Rhonda & Ian got caught in traffic and by the time they arrived, it was a bit late - so they waited until Saturday to come down. John Melton (Freedom Won) missed his first crusie or race in three years by coming down with a bug and winding up in bed!

Spinnaker Yacht Club's Cruise-In Coordinator, Robin Jarnigan, met each of us with a nice packet of information about the club and the harbor, and then went on to serve as our perfect bartender too! Dick (?) also helped out in the bar duties, and was busy doing his own marlinspike seamanship. In fact, he runs own internet business with these great weavings for sale. Here's a look and you can click on the pic for a link to some great nautical additions for yourself or as gifts for others: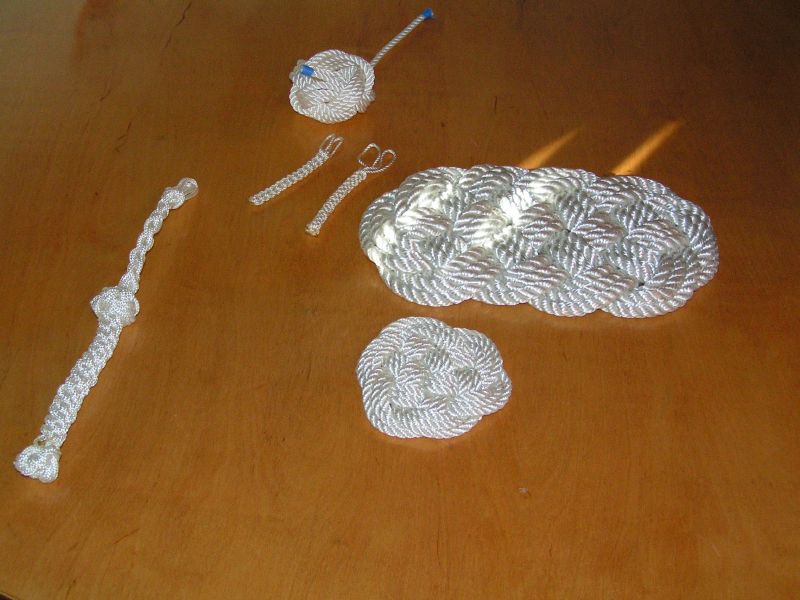 http://www.marlinspikeproducts.com
Robin & Dick's hospitality was extended to Charles & Kathryn Munn Hodgkins and Art & Betsy Fowler (Zenith) when they dropped in by car to share the evening. Even a Happy Hour at El Torrito's (& pitchers of Margaritas) left the whole gang ready for more back at Spinnaker Yacht Club to finish off Friday evening.

Laurie & Smokey, having expected a few more folks, were still up and making a group breakfast at a very liesurley 0845. While Smokey did pancakes, Laurie did scrambled eggs, and together they watched some sausages. Robin had some great little muffins to add to the table, and thus we passed the first part of Saturday morning.

That ultimate arbiter, tide, crept steadily away on Saturday morning until both Evanescence and Vanishing Animal were firmly planted in the mud - at least a foot deep by noon. Rick & Smokey found shade under the cockpit umbrella and enjoyed a light breeze that quickly passed the morning. Rick lamented that he had left his varnish can back in his dock box, so all he could do was relax!

Sandy Van Mell arrived by car just as the water started coming back in about 1330. Real water finally returned in mid-afternoon, and the arriving Islanders poked their noses into the long channel. The flooding tide swept Lean Times a bit too far to the south and she spent a few minutes plowing mud before regaining deeper water. Blockbuster, skippered by Jim Higdon with crew Stephanie Lucas arrived without incident, and finally Charles & Kathryn powered in to round out our dockside fleet of five.

Robin & Dick met them with the same enthusiasm and it wasn't long before everyone was bringing their hor de oeuvres to the deck. Along with great dips and cheeses, Stephanie got top billing with a great big bag of oysters. She began shucking them, lacing them with a tangy BBQ sauce and popping them on the great grill at the edge of the deck. She even taught Jim how to open some - at last count each still had ten fingers! Smokey's daughter Amanda arrived with her daughter Sara, so she & Ian Shea had playmates to run the deck. Ian even had a hammock to swing in between the mast and forestay.

Other goodies were piled on the grill - just in time for Lou & Diane Zevanov (Diana) to make a grand entrance as dinner was ready to be served. Salads, veggies, plus steak, chicken and pork - plus the last of the grilled oysters - made for a great dinner. Dick & Robin were kept busy behind the bar slaking the thirsts of all these great Islander folks. Teak was pleased to see that some people even ate on the deck and thus she got to sample a few bites herself.

It was a relatively early evening, since all agreed to depart early Sunday before the tide went out. So, by 0730 Laurie was up making coffee, Rick & Sandy brought up breakfast food of oatmeal and rasins (cookies), and Robin even found some of those little muffins. Rick was off the dock by 0825, leading the fleet out to deeper water.

Together it made for a very relaxed and enjoyable weekend. In total there were seven boats represented by 17 folks and Teak. Teak thought it was over WAY too soon!

Pictures by Rick Van Mell. Click on images to enlarge, click "Back" to return.

It's 2 miles...

down San Leandro Channel ...

to Spinnaker Street & ...

Spinnaker Yacht Club.

Friday's arrivals included...

Smokey & Laurie Stover's
Evanescence

Rick & Sandy Van Mell's
Vanishing Animal

Charles & Kathryn Munn Hodgkins joined ...

Robin Jarnigan & Bekka ?

then with Laurie!

Crowd gathers at the ...

well-stocked bar for fun.

Fun on the deck too ...

as Smokey & Charles settled in

Last light and ...

very gentle.

Smokey & Laurie's super Saturday breakfast

Lean Times & Mischief have arrived

View from the other side ---

(Cocktail Time getsw organized)

We filled the dock

Bring out the goodies...

Laurie drinks to that...PICT3659

"Where's mine?" says Teak

Commodore Shea

(Jim says, "Edit This One!!!)

Rhonda Shea makes a point

Goodies go on the grill....

Stephanie teaches Jim to ....

shuck oysters ...

and roast 'em good!

Commodore in the Galley!

The "finishing side" looks...

very delicious

Salad side ...

and Laurie gets the meat!

Lou & Diane Zevanov arrived
in time for dinner

Dick's great knot work ...

admired by rick

Tim presents Robin & Dick with Islander's
check for their junior sailing program

What do you mean......

"It's over?!"