ISLANDER 36 EMERGENCY TILLER
The emergency tiller on Caledonia comes in two parts stored below behind the cushions: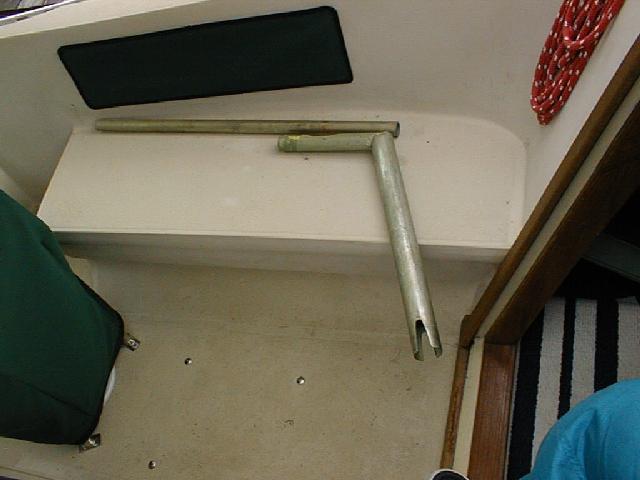 The straight bar is 38" long and the external diameter is 1 1/2". This straight bar slides inside the other part which actually consists of two pieces welded together.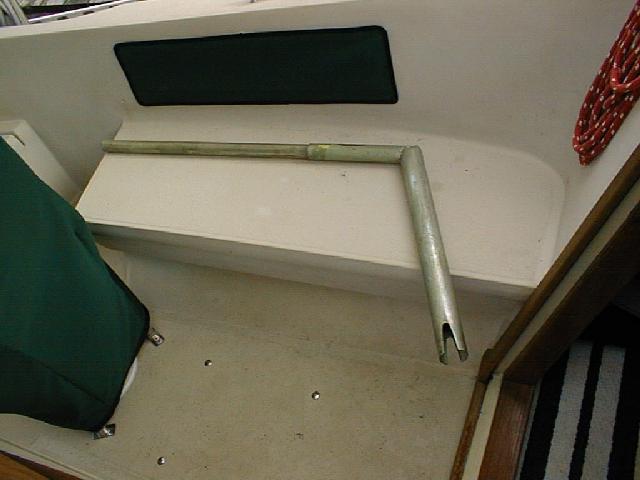 The leg of the 'bent' bar which holds the tiller extension is 12" long and the part which fits through the hole in the stern seat to the rudder is 24" long. Note the cut in the 24" leg which fits over the pin in the connection beneath the seat.
I hope the information is still useful.
Henry Neil (Caledonia)
E-mail to Henry
Return to Maintenance Menu

Home Page Menu
---
Steering Cables

Monday, July 27, 1998 11:56 AM

I am not sure where to send a question regarding our Islander 36 ('74) steering problem but hope someone there may know some way to help. We had problems with the steering (the cable had jumped off the wheel and wrapped around a bolt due to the loosening of support bolts) that we were able to resolve but in the process the wheel now is 1/8th of a turn off of center when the rudder is amidships. We tried to remedy this with the bolts on the cable adjuster but to no avail--- the rudder and wheel alignment stays the same causing the boat to turn better to the left than to the right. Hope you have suggestions. fitzma@aol.com

Reply:

For many years in Chicago I made it a ritual every spring to crawl, no, stuff, myself into the starboard cockpit locker and inspect and grease the steering cables and the sheaves that lead up to the binnacle. Grease also got applied to the shaft outside the binnacle, and inside by removing the compass.

I assume you have replaced the sheave pins and all is back aligned and tightened.

You should be able to adjust the eyebolts on the quadrant on the rudder post to center the wheel. There should be double nuts on the eyebolts to lock them in place on the quadrant. I am assuming from your description that you have tried this and have reached a point where one eyebolt is flush up against the quadrant, yet the wheel is not centered. My suggestion is to loosen both eyebolts until the control cables are loose enough for you to remove the compass from the binnacle and move the bicycle chain a couple of teeth on the sprocket which is inside the binnacle on the shaft to the steering wheel. Then readjust the eyebolts and check the rudder and wheel alignment. Don't put the compass back on until you have it the way you like it. Tension on the cables should be snug but not too tight.

For the rest of you, one of the most insidious places to look for problems is to loosen the cables at the quadrant eyebolts, then remove the pins holding the sheaves at the bottom of the pedestal (yes, from that cramped position inside the cockpit locker) - it is very likely that the pins have started wearing through. This loosens the cables (a sure sign of wear) and increases the wear rate because there is no longer a full support on the center of the sheave. It probably takes ten years before there is significant wear in light day sailing, but if you carry a chute in heavy weather for one long offshore passage (2000 miles) you could get the same wear in two weeks. (One time we calculated that our 23 day Transatlantic passage was the total equivalent of ten years of 30 races a year in home waters.)

Hope this helps, Rick, vanmells@ix.netcom.com

Response Back to Rick

Thank you for the help---- we did the adjustments on the quadrant and removed the compass and lifted the cable under the compass and reset it all to center. We were disappointed to find that it made a very slight improvement and that we were still making a greater turn left than right. Had to pay for help (always a bad and humiliating turn of events) but cut the work time down considerably as we had done the relatively easier parts. They had to change the setting of the base of the quadrant by removing the bolts from it and turning it somehow---still not perfect but will work on it more when it is in drydock. I sure feel like I know much more about the steering system than I did before and appreciate the well worded assistance from you.

We sail on Lake Michigan out of Chicago (Monroe Harbor) and love our Islander.

Pat and Tom Fitzsimons, fitzma@aol.com



Return to Maintenance Menu

Home Page Menu
---
Rudder Bearing

10/26/98 02:33:18 PM GMT

I have just purchased a 1974 Islander 36. While getting it ready for some new bottom paint I noticed that the bronze bearing at the bottom of the rudder has suffered from electrolysis and needs to be replaced. Do you know where I might find a new one? Please let me know.

Thank you, Ron Seevers, Poulsbo, WA, Ph # (360) 779-4010 , RSeevers@SPB.SWFPAC.NAVY.MIL

Re your bronze bearing at the bottom of the skeg:.
Suggest you call Svendsen's Boatworks in Alameda Ca. (510-522-2886)..talk to Rick.... They have done lots of work on Islander 36's...They used to commission them for the main dealer in the SFO Bay years ago. It seems I remember talking to them (maybe not him) about where they would do such work and they mentioned that they knew of someone in your state of WA.

Skipper Wall, "SnowFlower", nvsnowflower@cs.com


Return to Maintenance Menu

Home Page Menu
---
Rudder Post Leaks

07/06/98 03:09:07 AM GMT

I would like to pass along an overdue thank you to Bruce Hallberg, Skipper Wall, Roger Milligan, Don Schumacher, Harry Farrell, and Timm Carpenter for the information you provided to me regarding the rudder post packing on the I-36. I would also like to pass this information along to as many of you as possible in case you encounter a similar problem in the future.

Shortly after returning to the water following eleven weeks in the boat yard, my 1978 I-36 began to leak around the rudder post primarily while under power. Not having replaced the packing in the previous ten years that I had owned the boat, I suspected it was probably time, as was suggested by several of you. I made an initial attempt to disassemble the packing gland held together by four bronze bolts but was thwarted in my efforts when I could remove only one of the bolts due to the restricted vertical clearance created by the location of the steering quadrant immediately above the packing gland.

I then enlisted the services of the Mariner Boat Yard and working with one of their mechanics, with me lying under the stern seats (of course), we disassembled the steering quadrant, which provided full and easy access the packing gland. From that point it was simply a matter of removing the four bolts, sliding the top ring upward, removing and replacing the old packing in both the top and bottom rings, and completing the reassembly. The whole job took about an hour and a half excluding the time to obtain the packing material, the exact dimensions of which I regret to say I do not recall. The significant point in the process was the necessity of the removal of the steering quadrant. I don't know if this would be required in all I-36's but if the clearance to remove the bolts isn't there, then it probably is.

Thanks again for all your helpful information and hope to see as many of you as possible on Nov. 14th at the Golden Gate Yacht Club in San Francisco.

Happy sailing, Art Fowler, BETZENART@aol.com(Fowler)


---