Wonder what an Islander can take? Zac Sunderland, at least briefly, laid claim to the youngest solo circumnavigator, and did it aboard an Islander 36: http://www.zacsunderland.com/index.html
Here is a picture from Patric Lengacher of "Southern Mist" anchored at Cayo Guano del Este on the south coast of Cuba. He says, "We spent 2 months there this year and are back in Mexico now.

Cuban waters were the best we have seen so far in terms of clarity, colors and abundance of fish and of course lobster. It's also a great place for anyone seeking solitude. Heading to Belize soon and then Guatemala to seek shelter for the rest of the hurricane season." His home port is Rio Dulce, Guatemala.

Here's the rest of the story:

"Hm. Let's maybe start at the beginning. I bought the boat in Florida, 1.5 years ago. While looking for it I also met a girl who is my crew since then till next week, she is gonna leave. The boat was ready to go cruising, with fridge, watermaker, SSB Radio, maststeps, dinghi, davits etc. I only added solarpanels, built in a better autopilot and got a BBQ. Now we also have dive equipment but no compressor (yet).

We left St. Petersburg to sail to Key West, then spend 3 weeks in Cuba before going to Mexico, around May 2014. Then we sailed down to Belize and Guatemala for the hurricane season. Beginning of 2015 we went to Honduras, spent a couple months there, mostly diving in Roatan and then crossed North to Cuba where we spent 2 months on the south coast. Now we are back in Mexico.

It was my dream to go cruising on my own boat since I was 24. I took me 3 years to learn sailing and then I left to buy a boat. Now being out since 1.5 years shows me that this was the best decision. Learned so much and enjoying it every day.

Since I only know this side of sailing I have some questions: When you guys go racing with your Islanders, do you empty them? [ED: Some do, some don't.] I guess you still have a fridge and a stove? [ED: Yes.] Or do you have them completely empty so that you are lighter and faster? [ED: Some do, some don't.]

Also I'm still learning about sail trim. In nice wind we usually go 5.5 to 6.5 knots. Or thats at least what I think. :) But finally my GPS tells me my average speed is usually 4.5 to 5 knots. What do you think should be the normal speed for a quite heavy I36? Btw, our fastest was 10.7 over ground, with the countercurrent in Cuba last year and 20knots of wind.

Let me know if you want to hear more about our adventure, we also have a blog that is bilingual since a year.

Patric"



Go To Pictures Menu
Global Islander? Axel Seifried from Germany wrote: "I own an Islander 35 for 6 years now and successfully cruised the south pacific. But now it's back to work for me and the boat is for sale in Sydney/Australia. I would like to post the details on your website but I'm not a member of your association. Please let me know if you would post the details." As fast as we said, "Yes," he'd gotten an offer. But, he replied, "I invite you and all members of the association to visit my website and read the interesting story of a great cruising vessel. The link about Ira Ricarda is the history before I bought her. The Guest Log and Captains Log tell you about my journey and the picture link shows you lots of great pictures from the trip that took me up and down the US east coast, to Panama and across the Pacific Ocean to Sydney in Australia. The latest pictures from Sydney will follow in a few days. It's hard to sell a great boat that always took care of me and my guests." Ira-Ricarda Web Site

Kind Regards
Axel Seifried
s/v Ira-Ricarda
axel@ira-ricarda.com


---
Great Artistic shot.

Here is kind of a cool shot I took during a recent haul-out at Maple Bay.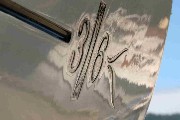 John and Marion Rodall
Holole'a

Go To Pictures Menu




---
Season's Greetings

This great greeting was composed and submitted by Neil Lefmann, True North (F-36) with The Brothers, marking the entrance to San Pablo Bay, in the background. Enjoy!



Go To Pictures Menu




---
Islander Fleet - June 5th, 2004.


The fleet, 15 boats strong, rounds the Yellow Bluff weather mark on the Knox course in the race on June 5th, 2004.
(Picture compliments of Mike Dickson.)
Go To Pictures Menu
---
Woodbine


Ron Damsen waves from the cockpit of Woodbine as she sails across the San Francisco city front.
(Picture from Ron Damsen, taken in May 2004..)
Go To Pictures Menu
---
Luna Sea's Broken Mast

What a lousy way to end a day of sailing! Steve Murphy & Kurt Smith's Luna Sea was sailing in the usual blustery waters between Angel Island and the Golden Gate on March 20th when her starboard main chainplate pulled out. When the spar folded just below the lower spreader, the end went in the water just aft of abeam, and Islander spars being as tough as they are, Luna sea was suddenly 36 feet long and about 30 feet wide!

This naturally made her a little slow through the water! It was also tough to get the sails off her and back to a dock. But after lengthy discussions with Vessel Assist, she was towed to an end tie in Emoryville marina, then into a 65' long slip which still had the top of the mast underwater at the far side of the slip. After a couple of days of trying to get the rig back on deck or cut off, they called the crew at Svendsens's Boatworks to perform an amputation and finally get Luna Sea to Svendsen's dock for permanent repairs.

(Pictures compliments of Steve Murphy and Art Fowler.)


Go To Pictures Menu
---
Misty's Mascot

Dale Mackereth sends mascot Tinker Bell topside on Misty #278 to watch for whales! Unfortunately they sail out of Superior, WS on Lake Superior and poor Tinker is getting frustrated at the lack of whales. Unless you count that big laker in the distant background - some of which were once called "whalesback" carriers! (Click to enlarge.)


Go To Pictures Menu
---
Tranquility

Ralph Greenwood sails Tranquility on San Francisco Bay. Here she is with Alcatraz, the Golden Gate and the Marin headlands in various pictures on a typical Bay Day. Photos by PaparazziH2O.com taken in 2002.
Go To Pictures Menu
---
Prize Winning Liberty
Go To Pictures Menu
---
Bluestreak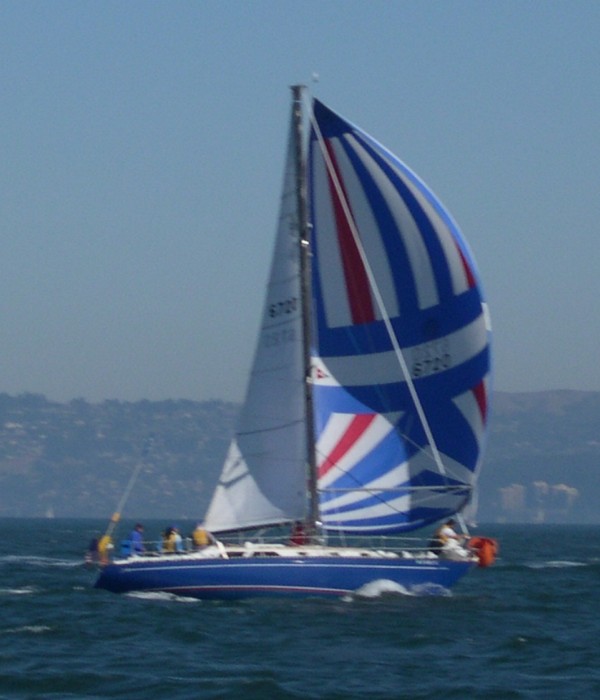 Powered up!!
Go FAST mode.
Don Schumacher's "Bluestreak" shows us how to go FAST!!!
Go To Pictures Menu
---
Bokonon in Panama
Many thanks to Herb and Margo for the photo of Bokonon in a snug spot up the Chagres River in Panama where they sat for a couple of weeks listening to the howler monkeys. E-Mail Herb & Margo
Go To Pictures Menu
---
Zoe in Resurrection Bay
Many thanks to Geoff Feiler for this wonderful picture of Zoe hard on the wind taken in Resurrection Bay. Somewhere in the middle - about two miles out of Seward, Alaska. Seward is the "sailing capital" of Alaska. The mountains are part of the Chugach Range - too many of them to name. E-Mail Geoff
Go To Pictures Menu
---
Sails Call in Transformation
The transformation of 'Bout Time into Sails Call is a great example of the new lives given to I-36 hulls around the country. She comes out gleaming and sails beautifully. Congratulations to John & Deb Giachino!
Go To Pictures Menu
---
Aquarius in Fairfield, CT
The photos of Aquarius on the mooring was at Pequot YC in Farifield, CT. The boat had just been launched and the sails were not on yet. We've added a nice vent for the aft port bunk, mounted our instruments where they are most handy, and, of course no boat is complete without a mascot! You see, I am the "Soccer mom" for the Darien High School Sailing Team and our county championships were held at Pequot. I had 17 (all with lifejackets on) high school sailors on board at the start/finish line. Great fun, Darien came in 3d in the county. Larry Gotch 5/27/99 E-Mail Larry
Go To Pictures Menu
---
Silver Salmon - Prince William Sound



Silver Salmon at their best.
Prince William Sound. Note the third reef!
Fresh icecubes in Prince William Sound.
Pictures compliments of Paul Johnston, Anchorage, AK E-Mail Paul
Go To Pictures Menu
---
Vixen in Canada


A mark's-eye view!
Glad they missed me.
Pictures On Lake Memphremagog, 5 miles in Vermont, 25 more in Canada. Pictures taken by Tim Doherty, 2 miles into Canada, before races were cancelled for lack of wind. Compliments of Michael Hamblett.
Go To Pictures Menu
---
Drakes Bay - 1994

I-36 rendezvous at Drakes Bay, 25 miles north of the Golden Gate. 1994
Go To Pictures Menu
---
Islanders Ashore & Afloat
The Islander on land and sea. Pictures compliments of Frank Burkhart.
Go To Pictures Menu
---
Swan - Gulf Islands, B.C.
Doug Dyer sends these peacefull pictures of Swan among the Gulf Islands, British Columbia.
Go To Pictures Menu
---
Hurricane Gabriel
From Len Diegel,

I'm forwarding a couple of pictures that I thought you might find of interest. Needless to say, the marina was less than thrilled with the performance of their new docks. More than 6 boats sank as the result of broken cleats, pilings, or disintegration of the slips.

I'm including a shot of "Katana" at Snead Island's slips. She moves to Twin Dolphins Marina in Bradenton next week. The Catalina 36 was actually on the bottom and raised the next day. I had the adjoining slip F33. Note the number on the power box. Had Katana been in the water on time, it too would have been on the bottom. She used one "life" the weekend Gabriel blew into town. You soon realize the importance of "hardened" cleats, adequate pilings, and properly installed docks/slips.

Best regards,
Len, "Katana", October 01.
Go To Pictures Menu
---
How to Contribute
Here's How to send your boat's picture or any activity pictures:

For the Monthly Feature, we would like pictures under full sail, that are clear and crisp, and most often show the whole boat. They don't have to be any special size or type. General interest pictures can be anything you'd like to send. They can be attached to an e-mail to vanmells@ix.netcom.com

You can also snail mail them to:

Rick Van Mell
1629 Begen Avenue
Mountain View, CA 94040


Go To Pictures Menu
Go To Main Menu